On April 15th, KMAC held their fifth annual benefit "KMAC Couture", shutting down two blocks of Main St in Louisville. Artists from all over the city and Kentucky participated to give the audience a spectacular show of handmade and heartfelt pieces.
Last year, Justin and I spent the entire day behind the scenes trying to capture the details to produce this video, and we fell in love with it so this year I decided to submit an idea!
The prompt this year dealt with color and I messed around with a few ideas in my head. I was revolving around the theme of natural substances that produce beautiful colors – crystals and quartz, magma and lava rocks – things like that, and finally went with gold, trying to play off the idea of its solid and liquid states. In order to get the dripping appearance, I used hot glue for the entire dress. The whole process was really trial and error up to a point, but it was a lot of fun to experiment and see exactly what would and wouldn't work and I'm extremely happy with the results. The gown is sexy and wearable even off the runway, and that was a goal I had had from the beginning.
When I first started messing with hot glue to create the dress, I used it as a textile in its own and didn't add any fabric – basically it was like one big sheet of hot glue that I could mold into a bodice. I liked the results in a way, but the texture was just falling way too flat for me.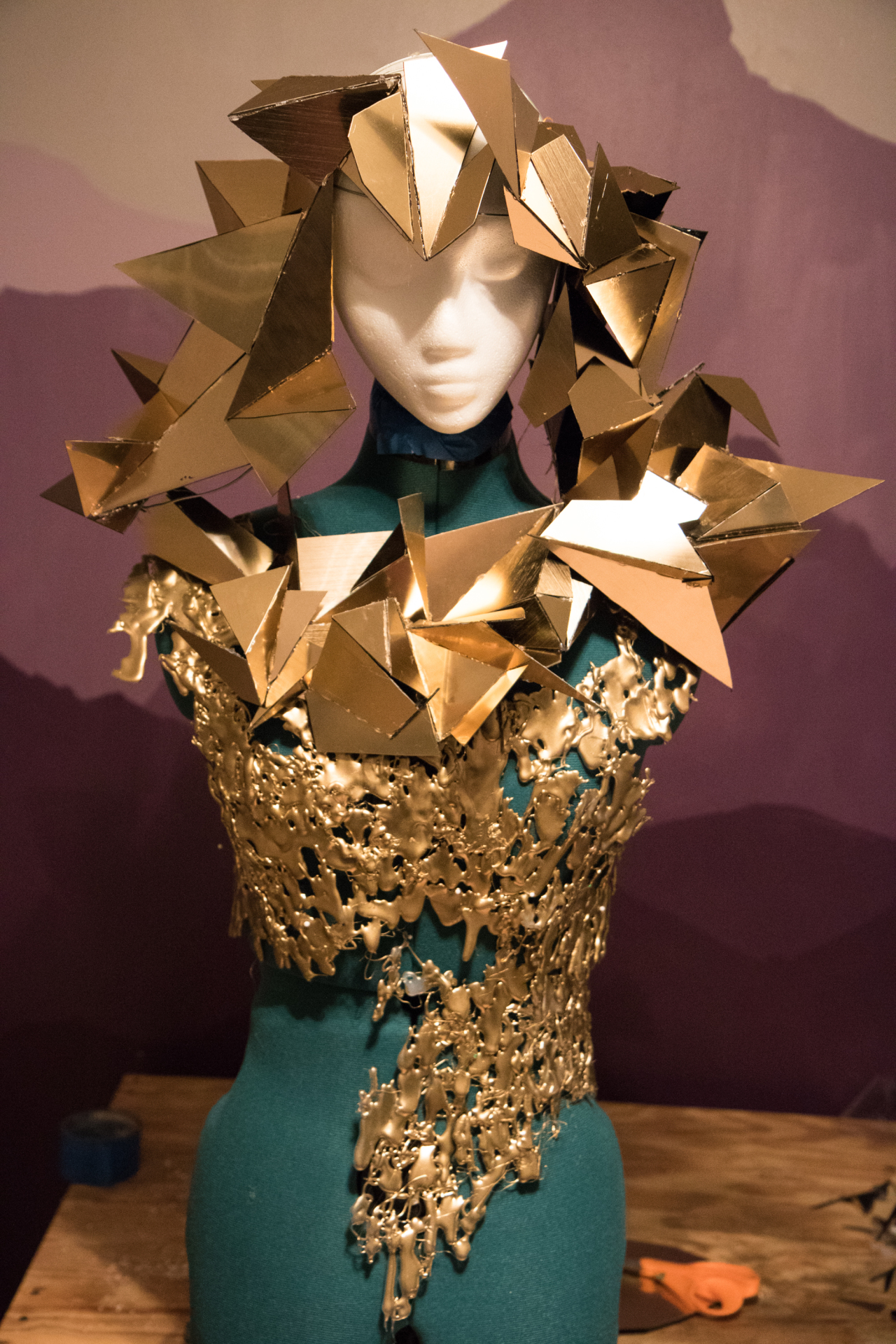 Once I officially was selected to participate in the event, I started over. This time I picked up some gold netting like fabric to use as the base, and it turned out to be much sturdier than I expected. I then started creating individual hot glue "drips". Using a piece of glass from a photo frame, I would paint out each shape and once the sheet was full and dry, I'd peel them off and spray paint them gold until I had a huge pile of drips that I could place to form the dress. Did this over and over and over and that is how my dress was created!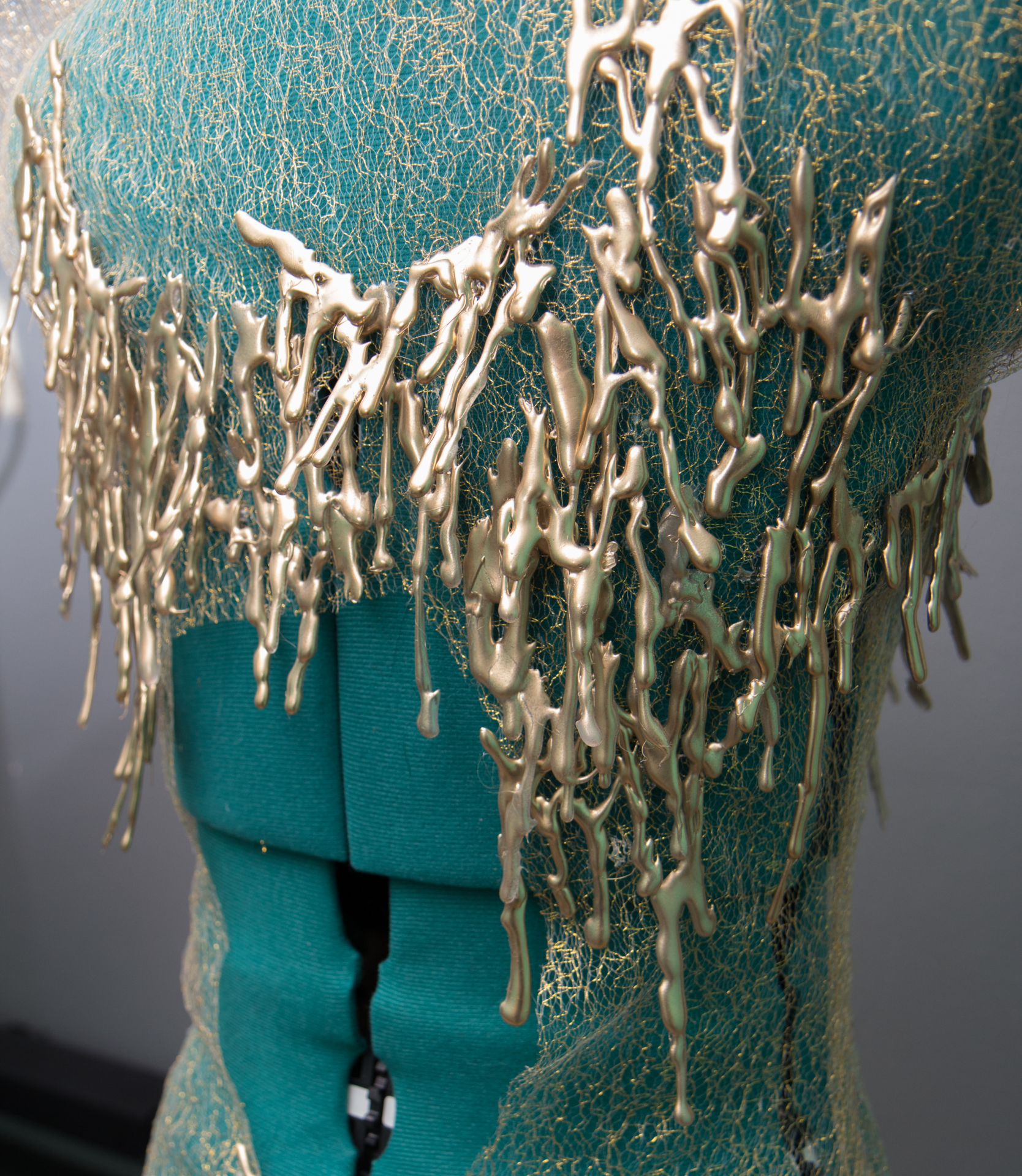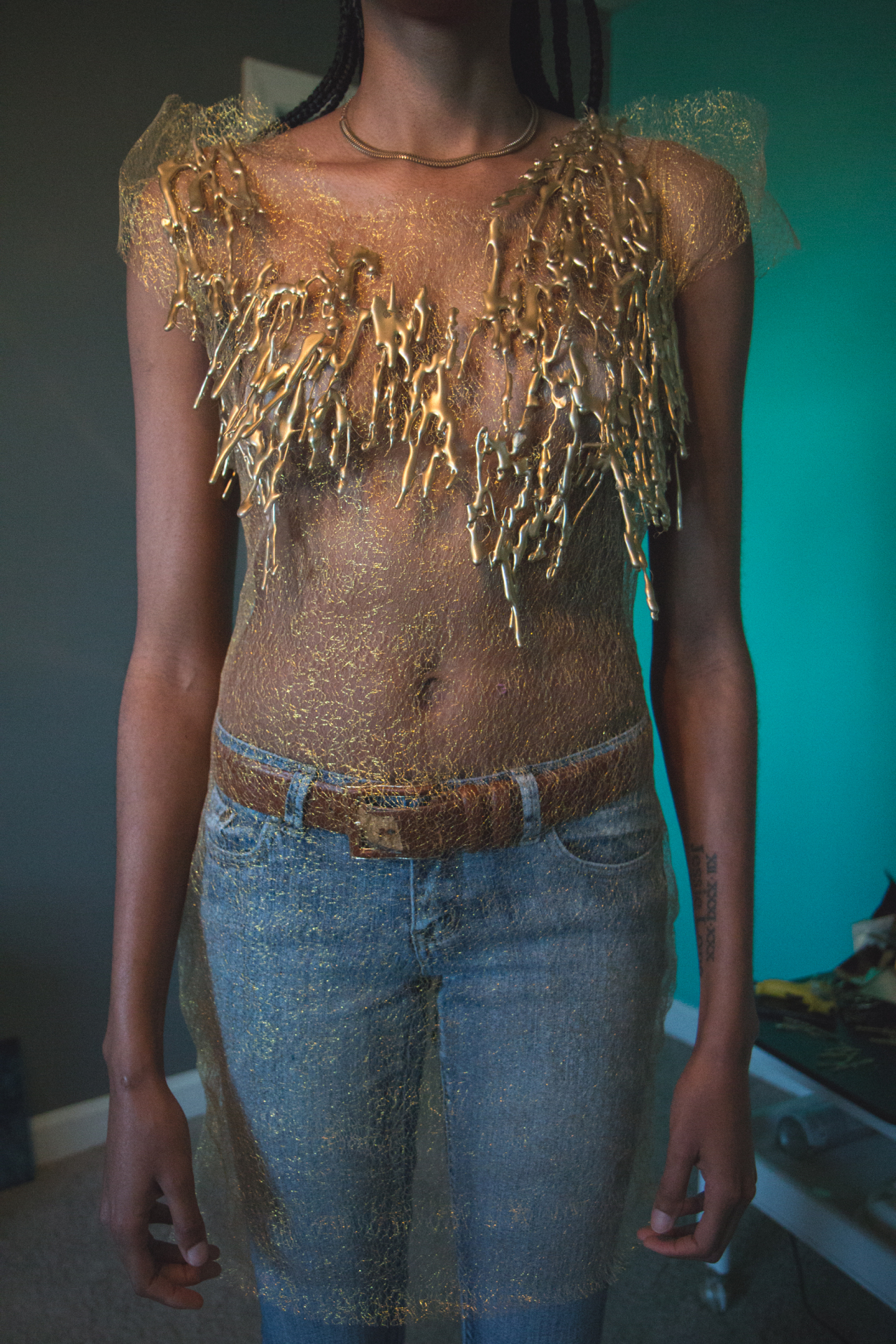 I met my model, Bethany Whitaker, online. Basically I just browsed tags on Instagram and loved her look so I reached out to her and she was excited to participate! This was also a first for me, and working with a professional model was a lot of fun. She really helped the full look of sexy and strong come together and killed it on the runway
The dress slowly began to take shape, but I still wasn't set on the bottom.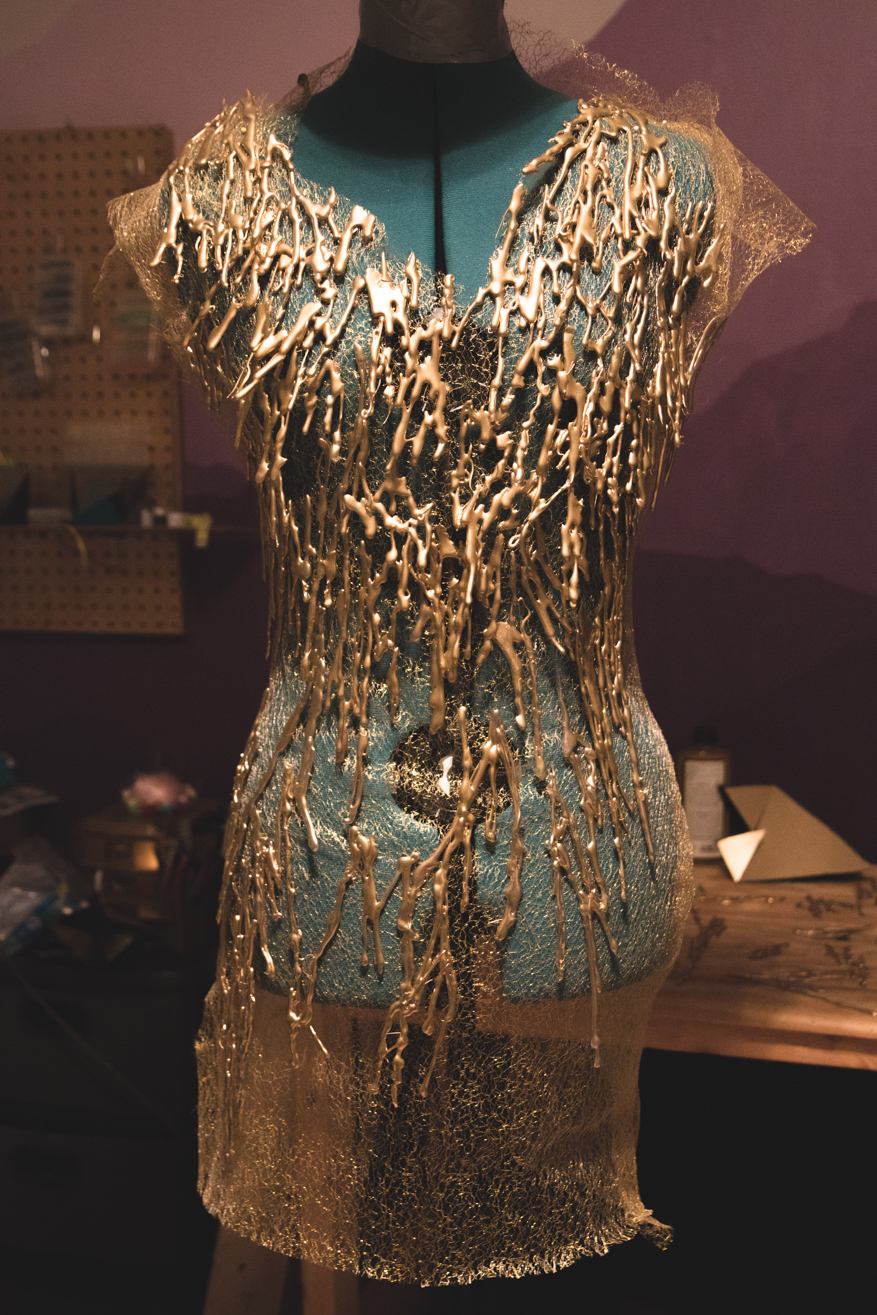 Originally I had pictured a large ball gown but light flowing skirt, but as I hunted for a nice gold fabric (aka not cheap looking) that idea began to shift to a full skirt made from the hot glue, as opposed to bringing in more fabric to complete the design.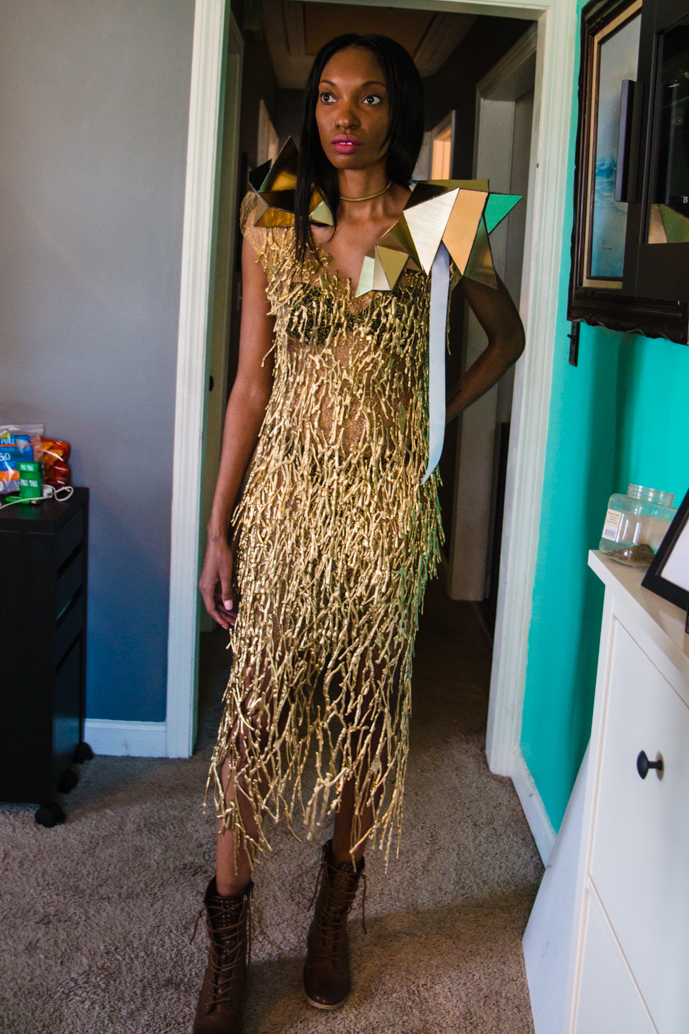 I was really happy with this choice because I think if I had added a more fabric based skirt it would have detracted from the hot glue and the texture. However, being made only from hot glue, the  skirt could not to hold up to the pressure of bethany's moving legs, so I fixed that by just adding a layer of the sheer fabric for support and runway day she was good to go!
Check out the 1 min glimpse into the process and runway below!!
Actual runway day was a bit stressful. I had always planned to be completely done with the design before the day of, but earlier in the week I had been invited for a short segment on WDRB and while I sat at work that day I left my headpiece in the hot car. I got home that day and lifted the headpiece out of the seat and it began to completely fall apart and what was left looked like total garbage! The headpiece was an extremely time consuming part of the design as I had to cut particular sizes to fit each piece together, like creating a puzzle, and then cleaning it up to get finger smudges and extra hot glue off was a nightmare… but Thursday night came around and I had to rip what was left apart and start completely over. Justin helped me tremendously with this new task and we were still working on it Saturday before the show. I can't thank him enough for his love and support through this entire process, and for listening to me cry ouch every time I burned my finger tips on the hot glue.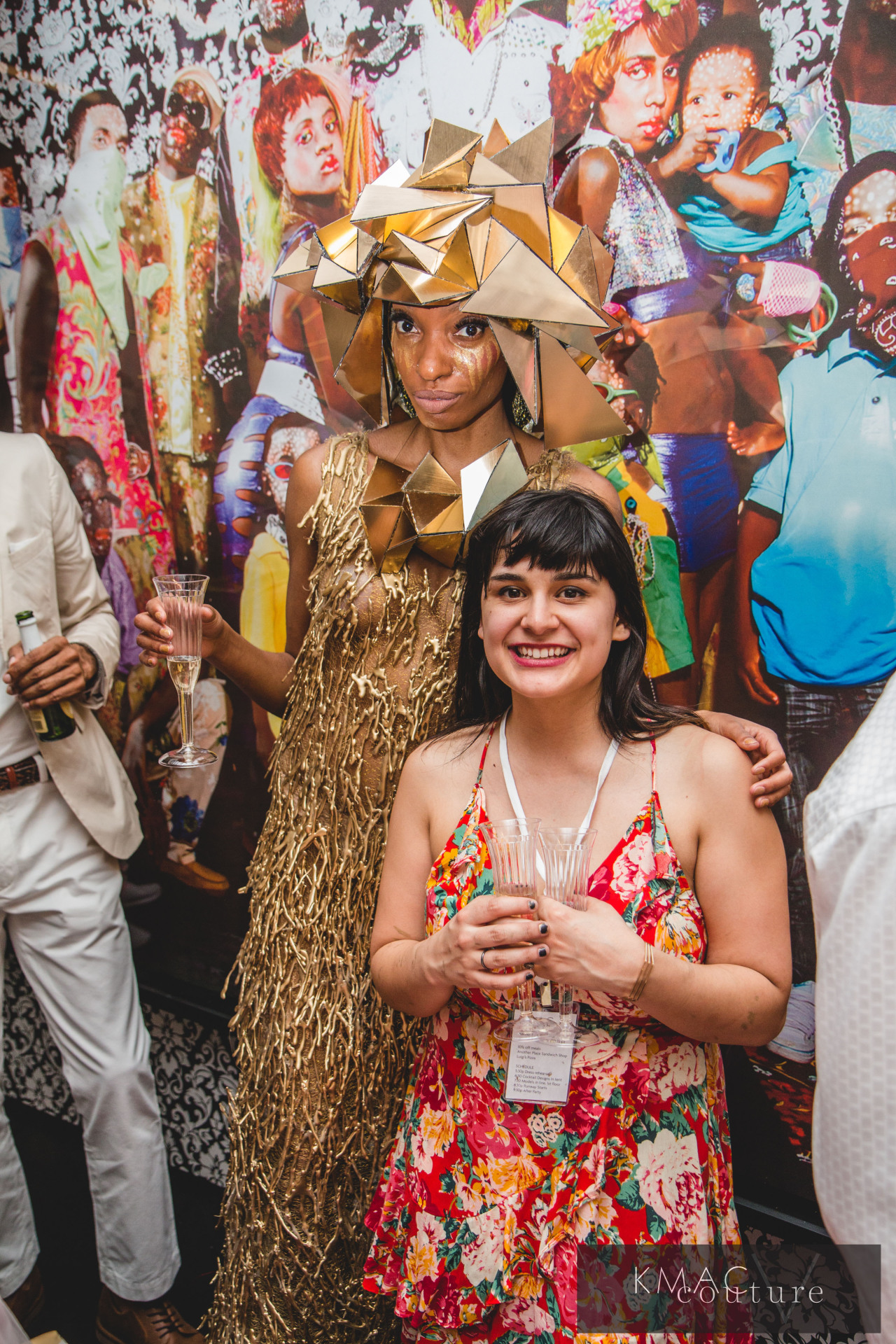 Here's to KMAC Couture Six! Thanks KMAC, all the sponsors, volunteers, artists, my family, friends, and the audience!